Asbury Park: Where Music Lives
www.theaquarain.com
From Shoreworld columnist John Pfeiffer:
"The pace of the book is brisk and paints vivid and vital pictures of musicians in their meteoric prime times, creating boardwalk history and putting their stamp across the world on everything from ragtime to opera and doing so without entitlement or much public fanfare."
www.UpperWetSide.wordpress.com
From uber blogger Tom Chesek:
"The editor of the recently published anthology of essays...has had a busy bunch of months, even by Helenic standards — with much of that activity centered around the city's hosting of the Smithsonian's touring New Harmonies exhibit and its attendant year-long slate of interrelated music-themed events....That aforementioned anthology is a whirlwind carousel ride past some little-known corners of Asbury musical history; written in many instances by the very people who gave those scenes their soundtracks."
From New Jersey's Lt. Gov. Kim Guadagno:
Thank you so much for the copy of your book Asbury Park: Where Music Lives. I look forward to enjoying this wonderful anthology highlighting both Asbury Park and the celebrated musicians.
From Justified Right columnist Tommy DeSeno, Esq.:
I liked that there wasn't a focus on music from the time of the hippies going forward, which AP music is usually associated with. Yours is a true history book.
From a buyer at the Jersey Acoustic Music Awards Show March 12, 2011:
"One of the most wonderful aspects of this book, along with the rich and nostalgic history, is how many musicians began their journey with the 'spiritual'." ~ Maxine Snow, Red Bank, NJ, singer-songwriter
From West Lebanon, NH, who purchased on line via www.AsburyParkMusic.org:
Just how you have found all the information boggles my mind even though I know you didn't do it overnight...All around, a fine piece and I will prize Asbury Park: Where Music Lives with my other
Pike books. ~ Carolyn Grass
From one of the musician/memoirists in Where Music Lives:
Hi Helen, In today's AP Press [April 4, 2011], Bruce validated my contention in the book, that recognition of the West Side scene and its impact on what became known as the Sound Of Asbury Park is long overdue. "The West Side guys had a strong influence on what became known as The Sound Of Asbury Park." Thank you again for giving me this incredible opportunity to be a part of the book Asbury Park: Where Music Lives, and where I lived for over 30 years and still has my heart! ~ Patsy Siciliano
From a Robbinsville, NJ, project manager who lives part-time at the Shore:
Asbury Park: Where Music Lives was a wonderful read. First of all the editing was superb. Each essay read like a short story. Secondly the overall concept was wonderful. The book highlights the importance of music in Asbury and the importance of Asbury in music. Not being a musician myself I was awed at the dedication of the musicians featured in the book. It is hard for me to describe the emotions I felt when reading about the musicians early struggles. They had such a drive to create. That drive is not echoed in every profession. The book and the entire experience surrounding the New Harmonies Exhibit has given me a new found respect for musicians and an appreciation for a variety of musical styles. ~ Roy Helfrick

From a reader who bought Where Music Lives on line via www.AsburyParkMusic.org: What a learning experience. I didn't know that the CuBops were our hometown celebs. This little gem is a must read! What a collaboration in such a short time. Congratulations! ~ Madonna Carter Jackson
From the Sacred Harp Sing-a-Long in Convention Hall on March 19, 2011:
Helen, I picked up a copy of your new book - lovely and already very entertaining and educational! Yours! Martin Swinger, Maine folk musician
From the Smithsonian preview party held at Chico's House of Jazz on March 11, 2011:
I enjoyed the book very much. I live in Monmouth Beach and although it is very close, I had no idea of how much Musical Heritage Asbury had. Great job! Patrice Carden
Comments from the March 6, 2011 launch billed as Book Jam:
As a young musician from New Jersey, I wanna say I really enjoy your book. Great collection!!! ~ J.T. Makoviecki, New York ~ ...what an amazing night the book signing at the Watermark was. Producing those wonderful essays would have been enough for some but pulling together an evening where Mexican rockers were loaning guitar chords to Bluesmen and Rockabilly guitarist were adding spice to traditional blues tunes...amazing. We hated having to leave early to catch the train. You are amazing. ~ XXOO, Linda and Allen, New York. ~ Thought that was a very nice event Sunday. Good to see the divergent communities of Asbury joining together. ~ Jean Mikle, essayist of "Let It Rock" ~ The book looks fabulous and the event was wonderful - and well packed! I can only imagine what a feat it was to get it all together, edited and out the door on time. Congratulations on another significant success!! ~ Kate Mellina
*************************************************************************************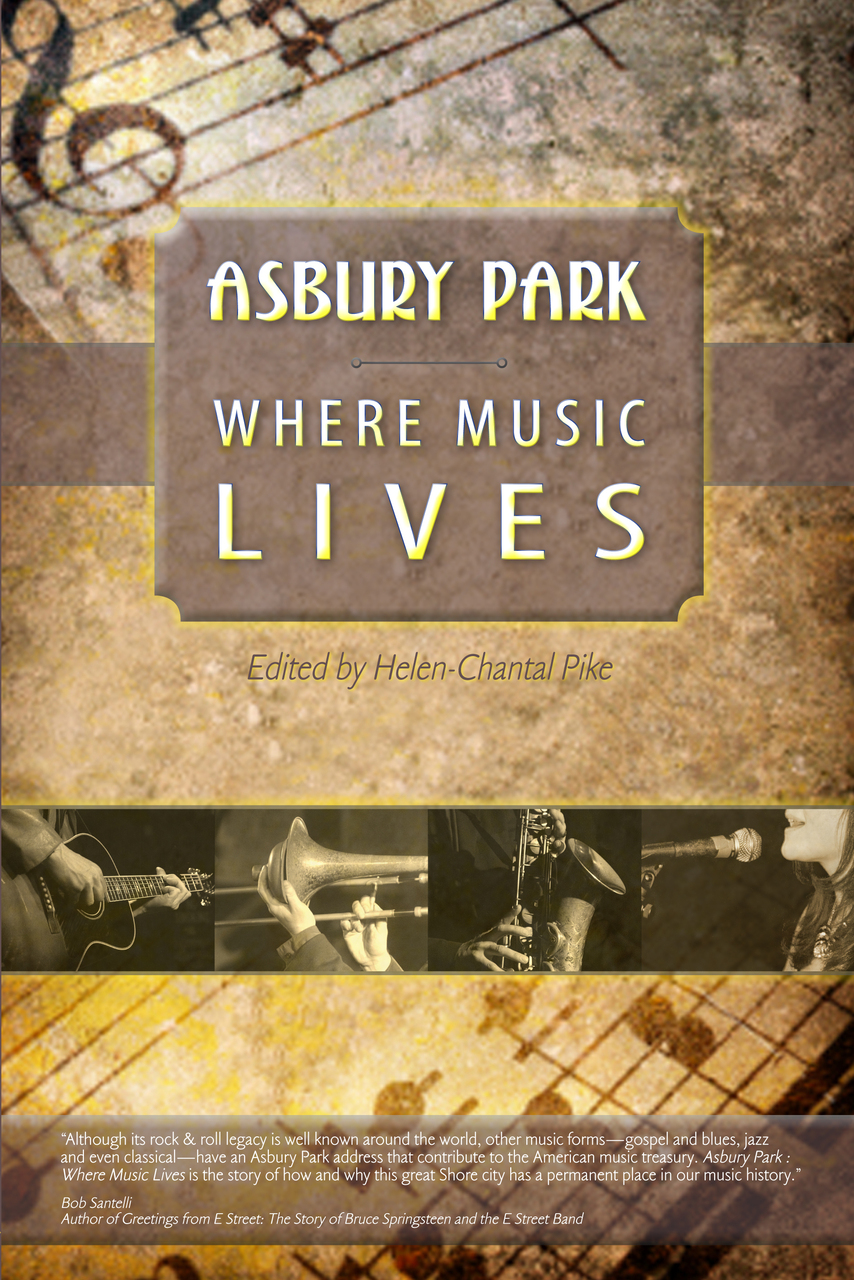 Intro

"Never get so far in front of the band that you can't hear the music." – Senator Shiel

For five months I had one of the best creative experiences in my career as a writer, photographer and editor. Twelve very talented musicians and one ardent music fan worked diligently with me to rescue from history's dustbin the wealth of music traditions that continue to shape Asbury Park's reputation.

Like music, writing is a discovery process. So, too, is reading. Within these pages I encourage you to find the astonishingly different ways in which music has found a voice here. For me, one surprising encounter happened in church as I found myself mouthing the words to "Amazing Grace." Who would have expected a cadence that was pure barroom blues from "The House of the Rising Sun"?!

My journey also took me from second-floor practice studios and side-street night clubs to that inevitable walk down memory lane that is the Boardwalk. Raise your hand if, like me, you experienced one of the following: opera, movie musicals, Fifth Avenue pavilion "pops" concerts, the symphony and Convention Hall rock shows.

We are all listeners. But some hear music that calls for an audience. Many of the musicians you'll meet in Asbury Park: Where Music Lives have played in venues no longer standing. Yet, in an unrehearsed coincidence of economic preservation and current passion, they and others play on stages the wrecking ball has missed. Their recollections are insightful and an inspiration to younger musicians looking to earn their licks.

As Asbury Park experiences a true music renaissance, we hope to introduce you to new performance spaces and also new music genres. As the daughter of an immigrant who filled my childhood home with singing, I reached out to the city's latest arrivals. Their lyrics and rhythms are part of our collective soul, for in Asbury Park are the sounds of America.

Enjoy the magical mystery tour you take what we hope is a first edition. Thrill at finding out what modern music is played at historic addresses. Perhaps you'll even smile in recognition at the before-and-after pictures we've used to illustrate these essays. And if you like what we have produced for you, share the love.

Helen-Chantal Pike
February 2011
******************************************************
Contents
Preface
Intro
Heavenly Organ ~ Gladstone Trott
Modern Sounds of Praise ~ Tyron McAllister
The Blues ~ Willie Mitchell
Jazz, Latin-Style ~ Dorian Parreott
Syncopation by the Sea ~ Rick Benjamin
Classical's Culture Clash ~ Helen-Chantal Pike
Alt-Sound of Opera ~ Brett Colby
Folk Lyrics That Demand to be Heard ~ George Wirth
Rockin' Round the Circuit ~ Sonny Kenn
Sound Of Asbury Park ~ Patsy Siciliano
Let It Rock ~ Jean Mikle
Rock: Con Sabor Latino ~ Gee Guillen
Island Roots ~ Cassandra Momplaisir
Outro
*************************************************
Asbury Park: Where Music Lives includes the work of the following photographers:
Dave Christopher (front cover)
Donald Blue
James T. Callahan
Kathy Dorn Severini
Dwayne Love
Joseph A. Carter
Madonna Carter Jackson
German Valencia
Gary Schiavone
Brenda Wirth

And from these two archives:
Dorn's Classic Images
Pike Image Archives