Asbury Park's Glory Days: The Story of an American Resort

Prologue: 1982

I left the north Jersey shore and my newspaper job at the Asbury Park Press in 1982 to attend graduate school at Columbia University. By that time, Asbury Park was generating memories mostly for day-trippers and rock band groupies. Old-timers told fabulous stories about men in tuxedos and ladies swathed in evening gowns strolling the nighttime Boardwalk, about thrilling movie premieres at the Mayfair and Paramount theaters, Frank Sinatra's career before and after his break with band leader Tommy Dorsey, and shopping for bargains or going to the clubs along the vibrant, ethnically and racially mixed, Springwood Avenue, likening it to New York City's Harlem.

But as the 1980s progressed, Asbury Park's status as a popular resort began to decline. The mayor was trying desperately to find a buyer for the city's once thriving Boardwalk. The amusement circuit's two vintage carousels were sold and shipped out of state. The jazz and rock clubs were going to seed. Record scouts, once noticeable in the wake of Bruce Springsteen's maiden album, "Greetings From Asbury Park", were hard to spot. Mysteriously set fires continued to claim vacated buildings, and all over the city, huge empty blocks sprouted weeds, broken glass and the detritus of drugs and street sex. The mentally ill, liberated from state institutions without appropriate housing or services in part of a nationwide trend, arrived here, as they did elsewhere, and wound up panhandling on the Boardwalk and on side streets. They checked in to previously comfortable boardinghouses and motels that were struggling to stay financially solvent as the public's travel habits changed. As the twentieth century came to an end, another government policy -- the promise of safe, affordable low-income, high-rise public housing -- soured. Plan after plan for a civic revival failed to take hold.

Just when everyone thought the city's decline couldn't get any worse, it did. When I returned in 1991, Asbury Park resembled a ghost town. It was routinely referred to by some Beirut on the Jersey Shore and by others as Dresden. The terms reflected a generational distinction between those whose referece points was World War II and those whose images of war centered on the Middle East, but the shared implication - bmbed beyond recognition - was clear.

The nearly deserted streets made Asbury Park a convenient commuter drive-through. Highways originally paved to carry vacationers to and from the Shore were now arteries to the newly built Interstate 195. The city's wide streets became short cuts for employees who lived on the coast but worked in Trenton or elsewhere in the burgeoning Mercer County. Meanwhile, school children, unaccustomed to seeing much traffic, routinely crossed against the flow in what seemed to outsiders a careless disregard for the changing lights. It was not uncommon to see drug deals in broad daylight. Women, residents and visitors alike, found themselves propositioned by men cruising in cars and trucks in even the more stable residential neighborhoods.

Asbury Park had a police department so wracked by corruption that one enterprising detective ran a private security business from his desk inside the squad room. A mayor was arrested for buying cocaine in a bar across from City Hall after a council meeting. The Board of Education was ill-prepared for implementing more and more state mandates to provide social welfare programs and raise test scores.

Real estate money went elsewhere. After all, there are one hundred twenty-seven miles of coastline between Sandy Hook and Cape May and more hospitable, even eager, investment climates. The redevelopment of Atlantic City, with large hotel "showrooms", was finally underway thanks to the special casino account that was part of the state referendum to allow restricted gambling in New Jersey. The boardwalk in North Wildwood maintained its stability largely thanks to two generations of the Morey family, while four generations of Gillians in Ocean City anchored the northern end of the boardwalk in the historically "dry," and skillfully promoted,and family-friendly Methodist resort community. The state's oldest seashore resort, Cape May, was firmly established as a bed-and-breakfast destination, capitalizing on reclaimed Victorian splendor, its business and civic leaders working together to find an alternate plan for housing the mentally ill.

I spent the 1990s writing about New Jersey's travel and tourism industry, and noticed that Ocean Grove, Asbury Park's twin city, was experiencing a revival as a result of an aggressive move by business owners to shut down illegal boardinghouses and tighten zoning codes. Even Long Branch, Asbury Park's historic competitor in the local travel and residential markets, was shaking itself out of a decades-long slump with construction of the north Jersey shore's first significant beach hotel in decades and Miami-style high-rise condominiums.

But Asbury Park remained locked in the embrace of an out-of-state developer whose fortunes were tied to New England banks. Changes made in 1986 to New Jersey investment tax laws and the country's regional recession of the early 1990s put his grandiose plans for the Boardwalk and the eight blocks of parallel real estate on hold. Meanwhile, the city, grinding into bankruptcy with millions of dollars in unpaid property taxes, was poised to become the fourth urban center - Camden, Newark and Jersey City - to be supervised by state officials.

The glamorous, exciting Asbury Park that had drawn wealthy vacationers and celebrities existed only in people's memories. New generations had been born who did not know what it meant to ride the entertainment circuit, buy freshly baked bread on Springwood Avenue, or take pride in a high school academic and athletic program that once dominated state competitions. Even fortune teller Madame Marie had moved from her Boardwalk booth to a two-story brick building on State Highway 35 in Ocean Township, one of the city's many post-war suburbs.

Driving through the devastation that ravaged both the East and West Sides of the railroad tracks, one couldn't help but wonder what had attracted people to Asbury Park in the first place.

*****************************************************

Table of Contents
Prologue, 1982
Chapter 1: Location, Location, Location
Chapter 2: The Avenues
Chapter 3: The Beach, the Boardwalk, and the Palace
Chapter 4: The Entertainment Circuits
Chapter 5: Dining Out, Sleeping In
Chapter 6: Downtown
Chapter 7: The Society
Epilogue, 2002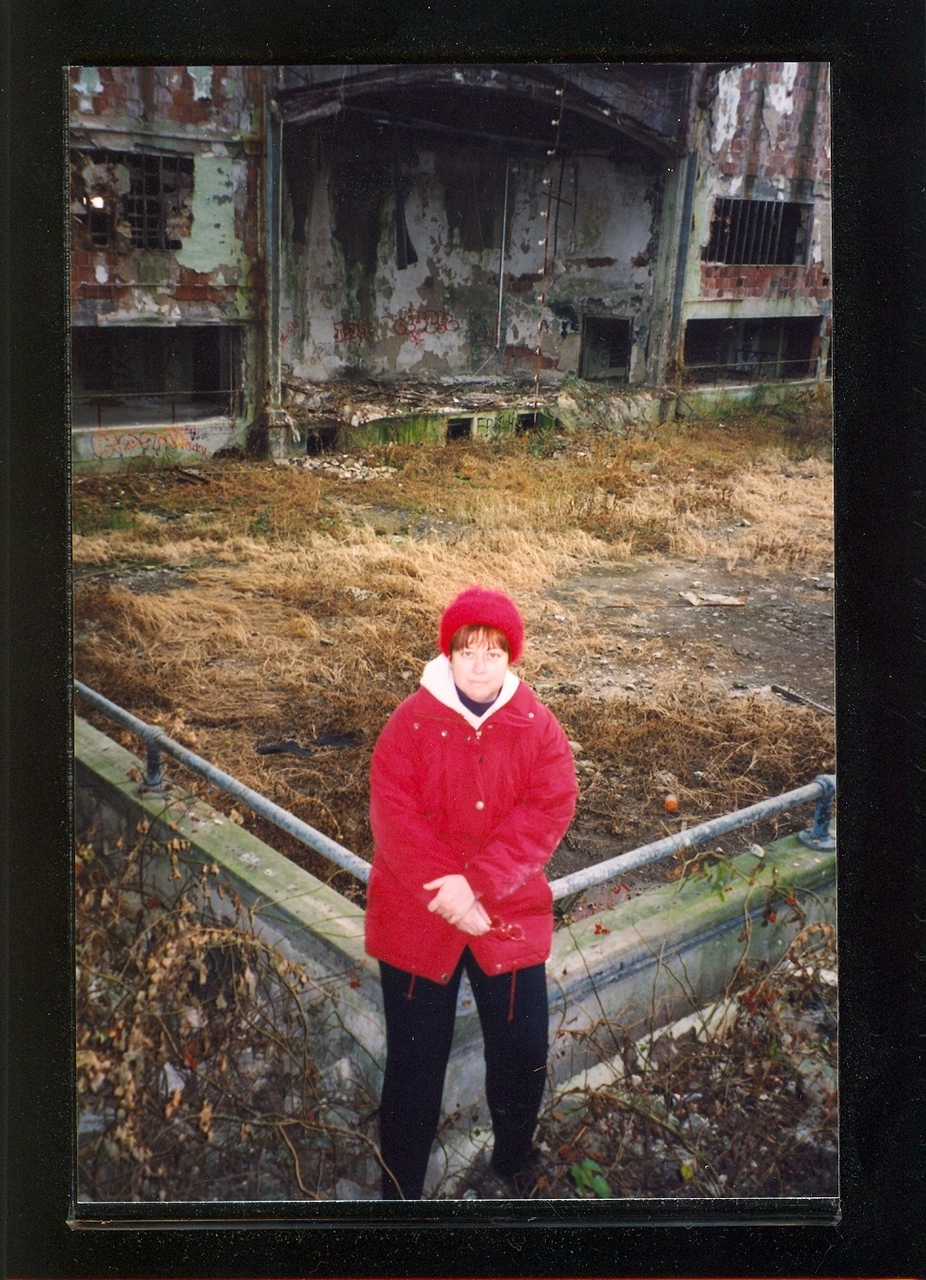 Arts Coalition
of Asbury Park
P.O. Box 507
Asbury Park, N.J. 07712

In this series, ArtsCAP interviews arts affiliated "locals" or "not-so-locals" with an Asbury Park connection. We hope the interviews will be informative and fun and that they help you better appreciate your neighbor and her or his talents you never knew about.

This week, we are thrilled to learn more about Helen Pike, author of Asbury Park's Glory Days: The Story of an American Resort and Asbury Park: Images of America. The Coaster, January 10, 2008

What do you think you are most well known for?
As a writer of non-fiction books about New Jersey. My eighth book comes out in the spring.
What is something that people probably don't know about you, and/or that you are very proud of?
I do a lot of my own photography, especially black and white. The first time photographer Kathy Dorn Severini was in my home she thought the photos on the walls came from the Dorn's Classic Collection. I was flattered.
Why do you think that ART is important?
Art is about the quality of life we live. When it's well done ~ painting, books, music, dance, video ~ the audience is engaged. Their responses translate into participation and that, in turn, creates community. Commercial television doesn't do that.
What "art form" first comes to mind when you think of Asbury Park?
Architecture. Asbury Park is a very visual city. Good, bad and ironic. The occasional billboard or even a PSA from the county prosecutor's office adds to the juxtaposition of images.
Were you involved in any 'art' while you were in school?
Just the usual: high school and college newspaper; classes in photography.
Are you involved with teaching "art" in any way?
These days, to lecture on the college level requires a certain amount of performance in the delivery of material to the students. In addition, part of my course requirement at Rutgers University-New Brunswick is that media students present a paper. How they do it can take any shape that best suits them, but part of the grade they earn is based on how well they engage their classmates in their topic.
Do you consider yourself an artist or a patron of the arts or both? If both, in which order?
Both, but I can't put in one ahead of the other. When I'm involved in a project, I'm usually a patron, using my participation as part of the thought process. I often carry a small notebook to musical events because those, in particular, trigger ideas.
Are you currently making a living with your art? Do you have to have a second job to 'pay the rent"? What would make it easier?
Writing is too solitary a craft for me to do only that, so I teach part-time. There's an exchange of ideas in the classroom that you don't get in the real world where too many people are focused on having the last word. Since '05 I've had classes with military students, some about to serve in Iraq or Afghanistan, and some just returning. Their perspective has opened up a whole other realm of discussion I wouldn't have otherwise.
As an artist, after completing a work of art (or a debut), how do you celebrate?
Go out to dinner with friends or else throw a party. Either way, it's important to commemorate getting to the finish line.
Do you have any plans for the future that involve Asbury Park?
I have two new book ideas and a couple of video projects.
Do you now or have you ever lived in Asbury Park?
Only as a house and cat sitter; the property taxes are too high for me to trade in my house in Eatontown and find a comparable value in Asbury Park.
What is your favorite hang-out in Asbury Park? Why?
The Adriatic. It's down home. Friends took me there to celebrate my birthday in 1997, and I've been checking in ever since. When friends come from out-of-state I make an expedition of sampling the other tables. Asbury Park is a gourmet's paradise.
What is your favorite Asbury Park memory?
Scaling the Casino and the Palace Amusements to take interior photographs. I was working out the logistics of getting into the Albion Hotel when it came down.
If you couldn't be successful doing your art, what would you like to do instead?
Be an interior designer.
What would you like your tombstone to say?
"Greetings from heaven. Wish you were here." I've already talked to gravestone designer Beth Woolley about it.
What one thing in your past would you change if you could?
Chosen more wisely at love.
What kind of car do you drive? Some people say it is a reflection of your personality.
I've had 2 VWs, one Karmen Ghia (my favorite), one Volvo, and now a Nissan Pathfinder that I use as a mobile office because of all the driving I do. What I really want is someone to drive me so I can look at the scenery. I wouldn't care what they drive though a convertible for shooting images would be nice. A retractable roof works, too.
What do you think ArtsCAP can do to promote the ARTS in Asbury Park?
Take a more vocal activist role in the public debate about the role of art in Asbury Park's renaissance.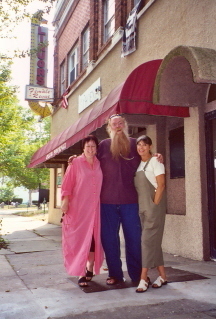 R.I.P. Jan. 25.07 Asbury Park's last troubadour died in his sleep in Colorado. He was 58. Two years earlier he could be heard singing in the city where he was raised. In this photo we are standing in front of the building where Eddie King had a performance school for children on the second floor. The irony? Not only had Danny grown up hearing King sing, thanks to his father, but that summer he was living on the second floor. A memorial concert is planned for the afternoon of Sunday, February 11, at Red Fusion, Cookman and Bond Street. For more tributes, please visit www.bigdannygallagher.com or click the caption for a direct link.

2008 UPDATE
Aug. 28. 03 the one-time Phoenix [anyone else get the additional irony?!] sported a for-sale-by-owner sign. If you want to know this building's connection to actor Jack Nicholson, read my interview with Danny by scrolling down this center feature column.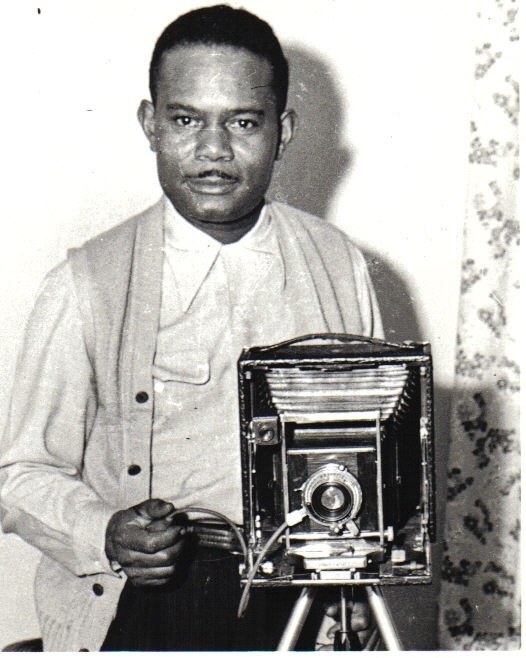 A West Side Story Retold
The Coaster | January 11, 2007 | By Helen Pike

For years she was simply a little girl in a crowd of people, held high to see the Elks parade on Springwood Avenue in a photograph that has come to define the heyday of Asbury Park's West Side for African Americans.

Today, a grown-up Madonna Carter Jackson has stepped out of the picture with the first book in what she hopes will be a series of historical flashbacks captured on more than 5,000 negatives she is archiving from the studio of her late father, photographer Joseph A. Carter, Sr.

"I see this as a workbook I'm using to gather more information," Carter Jackson said of the diary-like format that invites readers to pen their memories as they are stirred by the 244 pages of photos in "Asbury Park: A West Side Story".

The book was released in December by Outskirts Press, Denver. It retails for $29.95 and is available on Amazon.com.

"Photos stimulate emotions about one's past that I fee should always be remembered and shared with family," she added.

The initial 200 photos speak volumes of a post-World War II community that brimmed with promise and progress: Newark's then-mayor Sharp James is shown making a donation to the West Side Community Center; Althea Gibson, the first black tennis player to win Wimbledon appears at a church-sponsored banquet as a motivational speaker; New York Congressman Adam Clayton Powell speaks at a VFW dinner; Ray Charles, with the Raynettes, plays a concert at Convention Hall.

Carter, according to the written words of his daughter, "captured Black History every day of his life through his photography."

For thos looking for Asbury Park's connection to Fort Monmouth, they are there. Exotic dancers at Cuba's? They're there, too. Springwood Avenue with thriving retail stores lining its sidewalks? The Asbury Park-Neptune NAACP march in Trenton? Family portraits - some known, some not - are there with lines invitng readers to help remember the forgotten.

"My father did work for people all over Asbury Park and surroundng cities," recalled Carter Jackson whose mother, Lenora Niblack Carter, just celebrated her 90th birthday in the family home on Bangs Avenue. The book is dedicated to her.

"He was a respected photographer by all races. [He] was the official photographer for the annual boat show at Convention Hall. He worked for several law firms, doing field photography that doocumented the visual evidence of negligence cases."

He began with a sidewalk-level studio on Springwood Avenue after arriving here from Florida in the 1940s. Despite his studio left unharmed by the 1970 riots, Carter moved to 715 Mattison Avenue above the Klitzman, Klitzman and Gallagher law firm. When her father was diagnosed with pancreatic cancer, Carer Jckson persuaded him to let her take most of the nagatives from his East Side studio for safe-keeping. The move was prescient: In 1978 the building was destroyed by fire. Today it is the site of a parking lot oppostive Bistro Ole.

"I do not want the West Side to ever be forgotten," said Carter Jackson who has for two years contributed regular column to the "Shore African American Magazine". She ses the community's "hidden treasures that existed prior to the riots of 1970." Those assets, she explains,"were the people of the West Side of all nationalities."

Retired from Florida Atlantic Unviersity, Carter Jackson has lived in South Carolina since 2001, and currently owns a small enterprise called My Little Office [note: click caption above for link], which offers administrative assistance to small business owners. In the less than two months that "A West Side Story" has been in print, Carter Jackson has communicated with readers from as far away as California, Indiana, and New York.

"My father captured people living life lovely," she said, "and has left wonderful memories."
*************************************************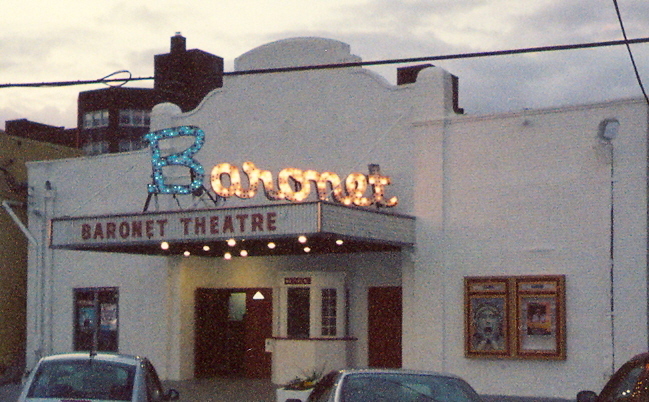 Movie mogul Walter Reade, Jr. brought one of his Manhattan marquees to this jewelbox theater that was lovingly renovated in 2006 by Dennis Dubrow and Pat Fasano. The original owner built it to augment the offerings of his rambling wood-frame 19th century hotel that once stood next door [west] before it was lost in a horrific fire.

On Oscar Sunday, February 25, at 3 p.m. there will be a special airing of the PBS/NJN documentary Greetings From Asbury Park that neatly tells the story about religion, race, real estate, and rock 'n' roll in this storied seashore community.

I'll be on hand to chat about my experiences as a 'talking head' in the 30-minute doc. The screening is sponsored by ArtsCAP, an advocacy group in Asbury Park. Admission is by donation. The theatre is located on Fourth Avenue, just west of Kingsley Street.

Costumes optional!

2008 UPDATE
Scroll down to read the story I wrote for The Coaster about the demolition of the Lyric Theatre on the same day the Palace Amusements came down.

Just like there was no advocate for saving Reade's Lyric (started by the senior Reade), there is no advocate for the Baronet to marshall the public (including the residents who live in the immediate area) in a steady, well-organized public campaign to save what could be a true neighborhood playhouse.
Asbury Park: Reborn in the U.S.A.?
Greetings, indeed! The summer may be over, but with all of the anticipation brewing over the October 2 release (less than three weeks away!) of Bruce Springsteen's Magic, his new album with the E Street Band (see my posts below), it's a good time to reflect on exactly where Asbury Park is right now. What I mean is: Decades after its glory days and having hit rock bottom, is the New Jersey seaside resort ready to become . . . well, a resort again?

I started mulling all of this over when I came across Helen-Chantal Pike's book Asbury Park's Glory Days: The Story of an American Resort (Rivergate/Rutgers University Press). It's a pleasant read that brings back many memories, helped by a veritable treasure trove of vintage photographs. The entire story is told: from heyday to doomsday, from politics to saltwater taffy, with the book divided into chapters that are loosely devoted to topics like "The Avenues," "The Society," "Downtown," "The Beach, the Boardwalk, and the Palace," and of course, "The Entertainment Circuits."

If you want to read more from Ken Richardson at Sound and Vision Magaine On-Line, please go to www.soundandvisionmag.com/bitstream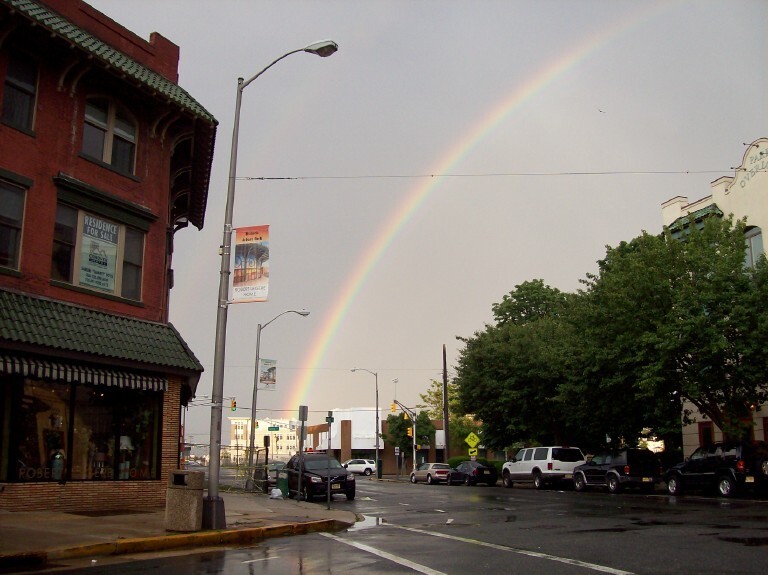 Road Trip 6 comes to Asbury Park the last weekend in July 2007. As Mistress History, I'll give 3 kitsch-to-rich lifestyle narratives aboard the Mauve Express on Saturday, July 28.
2008 UPDATE
Missed me? Realtor Mark MacDonald, who did the tour with me last year, took over the narrative and did it solo. So, word got back to me about Ethel Merman swimming in the Monte Carlo pool. HA! That ranks right up there with Myrna Loy having lived in the Santander and Lou Costello owning property in his partner's birthplace...one day there'll probably be a story about George Washington having slept under the Boardwalk. After all, if you believe the postcards, the father of our country seems to have slept all over New Jersey.
From Shangri-La and Back
As Asbury Park looks to the future, a new book explores its past
Susan Van Dongen | Time OFF/Princeton Packet | June 29, 2007

It was trends in travel that altered the fortune of Asbury Park, along with a number of other seaside cities and resorts in New Jersey. But for Asbury Park, which enjoyed its glorious heyday in the first two decades of the 20th century, other factors seemed to just pile misfortune upon misfortune. The Great Depression, the coastal blackouts during World War II, a flurry of corrupt civic leaders and bungled business deals all contributed to the decline of what had been a vibrant city.

"The glamorous, exciting Asbury Park that had drawn wealthy vacationers and celebrities existed only in people's memories," writes author Helen-Chantal Pike, whose most recent work is Asbury Park's Glory Days: The Story of an American Resort (Rutgers University Press, $22.95). Writing about the city in the 1990s, she reflects "...new generations had been born who did not know what it meant to ride the entertainment circuit, (or) buy freshly baked bread on Springwood Avenue...

"Even fortuneteller Madame Marie had moved from her boardwalk booth to a two-story brick building on State Highway 35 in Ocean Twonship, one of the city's many postwar suburbs," Ms. Pike writes.

A former reporter for the Asbury Park Press and The Coaster, Ms. Pike is a lifelong fan of the city and is hopeful Asbury Park can find its way back to a place on the map. In the meantime, her book is a historic and visual treat for anyone who remembers spending time in the city.

TBC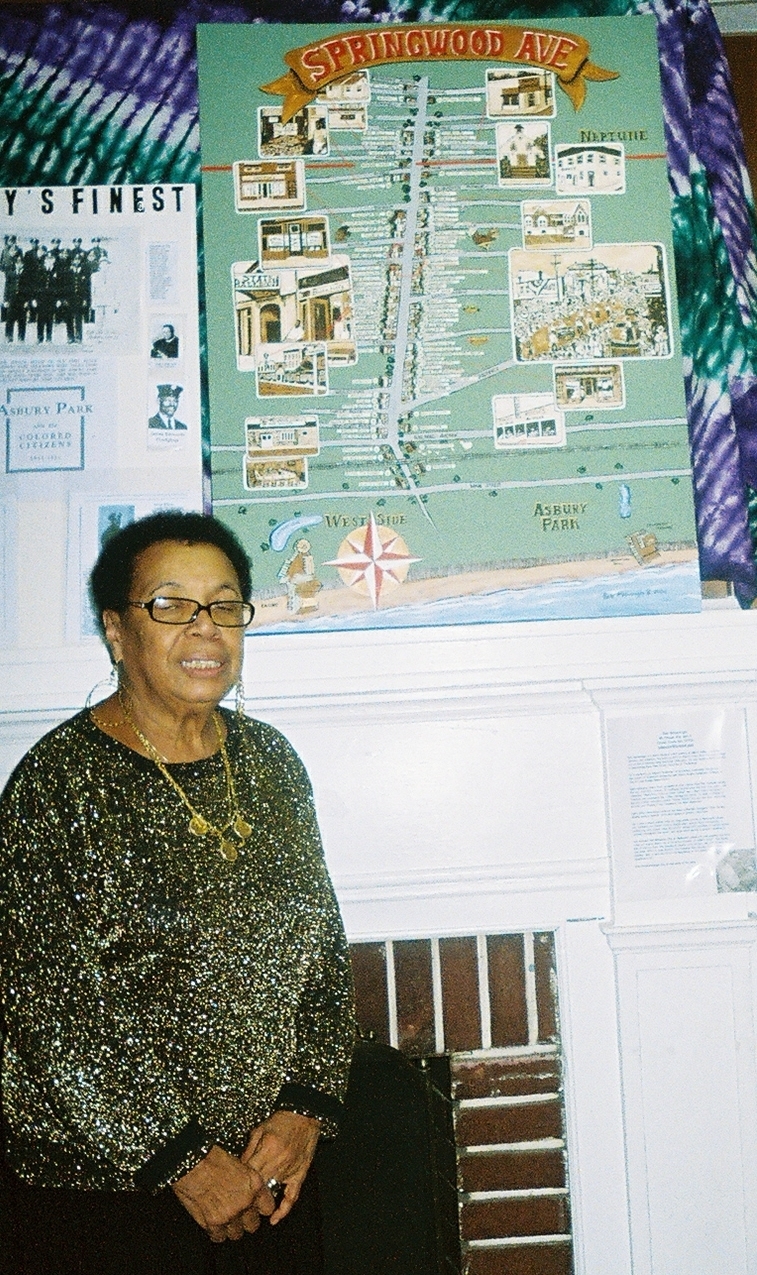 "Springwood Ave. Mural Unveiled"
The Coaster | March 16, 2006 | By Helen Pike

If you are looking to design Springwood Avenue's future, perhaps a good place to start is with Rainette B. Holimon's past.

As part of Black History Month, Holimon unveiled a handsome portable mural of the avenue Sunday at the West Side Community Center in Asbury Park.

"Every generation has a different memory," said Holimon, surveying the faces which filled the one-time living room of Dr. William J. Parks on DeWitt Avenue that now serves as the community center's main facility. "Everybody has relatives here."

Holimon is respected as the West Side's historian, having been born and raised in the city. Her family was in the first generation of residents to live in Asbury Park Village when it replaced primitive wood shacks that once dotted the neighborhood in the decades before World War II. She was in the first group of local children to participate in the outreach programs after the community center was started.

A graduate of Asbury Park High School and the then-Monmouth College, Holimon went on to a career for the telephone company that included a stint working for the Peace Corps in Africa. The experience enabled her to trace her family's genealogy which she touched on in her 2001 autobiography "Reaching Out".

With her late husband, a city police officer, Holimon lived on Bangs Avenue. Today she lives not too far over the city line in Neptune.

"Rainette has not forgotten her roots," saidSusan Maynard, executive director of the West Side Community Center in her opening remarks, praising Holimon for her volunteer work.

In an earlier interview, Holimon explained she wanted a portable rendering of Springwood Avenue that connects Asbury Park and Neptune to show the community center's youngsters what her childhood had been like when the now nearly empty thoroughfare was filled with two and three-story buildings that bustled with life and commerce.

An introduction last summer to artist Bob Mataranglo of Ocean Grove moved her vision closer to reality. Among Mataranglo's commissions is a mural of Moses Heath, a member of Monmouth County's first free black family to own a farm. The mural is located on the family property in Middletown which is open to the public as a museum.

Working from photos and Holimon's memory, Mataranglo spent seven months creating the legend of 95 stores on the north and south sides of the avenue from Main Street in Asbury Park to well past Myrtle Avenue in Neptune.

"It was a busy street," remembered Carolann Nicholas as Holimon and Mataranglo toured everyone through the list. Nicholas and others present murmured their recollections at the mention of various places of business.

Some of the more vivid memories were for Knuckles' Electric, R&R Ribs, Eddie's Barbershop, Griffin's Cleaners, Bradley's Furniture, the West Side Dining Room, Kessler's Grocery Store, Sweet Orange's shoe shine, Blackie's Café, Sophy's Dress Shop, Bunson Carter's Drug Store, the State Ballroom, Carter's Photography Studio, Cuba's Nightclub and Paramount Paints.

****************

"Writer revives Asbury Park's spirited history"
Ocean County Observer
By Carolynne Van Houten

Helen-Chantal Pike recalls the day she got her driver's permit and celebrated by taking a drive through Asbury Park. It was a rite of passage for tennagers back in the day, showing off by parading through the thriving seashore destination, waving to fiends and passers-by and showcasing one's arrival into cosmopolitan society. Today, such a gesture seems as antiquated as a scene from "American Graffiti," a throwback to a place and time that no longer exists.

"I came back to Asbury Park in 1991 to take care of my father," Pike said. "And I had to ask myself: 'What happened to Asbury Park?'"

The question set in motion Pike's mission to reveal what Asbury Park had been - when it was desirable real estate and a playgroundfor the rich and famous. What evolved was Pike's book, "Asbury Park's Glory Days: The Story of an American Resort" which transports readers back to the days when the city was a bustling summertime hub. Pike's background as a travel writer proved to be an invaluable resource in researching the book which focuses on Asbury Park in a more enchanted era.

...Pike used rare photographs and handbills to paint the portrait of Asbury Park in its glory days - including vintage photographs that act as a testament to a town that has been long forgotten. The postcards add a point of reference to Asbury Park's alter image - revealing the Asbury Park that was once an exclsuive resort town, and whose history is pivotal to the formation of the Jersey Shore as a revered vacation destination.

"I thought the best way to capture Asbury Park was through the prism of travel history," Pike said.

But the author's personal recollections and poignancy and dimension to the book. She was named Helen-Chantal by her mother, who was of French descent. Pike recalls her mother taking her to an Asbury PArk frame shop that was onwed by a Frenchman, and a place where her mother could converse in her native tongue.

"Asbury Park has always had a welcome mat out for immigrants," Pike said. "I think that visits to the frame shop were important for my mother in that she could speak her own language and remember the land she had left."

Despite the marked contrasts in the historical development and the redevelopment of Asbury Park - Pike remains optimistic that the town will indeed make a comeback.

"The key to redevelopment in Asbury Park is to bring back exclusive stores and restaurants to the area so people won't feel they have to go to Spring Lake or Red Bank," Pike said.

"We live in a time of nanoseconds; it took 30 years for Asbury Park to fall into its demise, and it won't take that long to come back. But it won't happen overnight, either. People have to find a reason to come back to downtown Asbury Park. But the pavement has finally been poured and that represents real progress."
****************************************************************
"Holy Spirit Showcases History in New Book"
The Coaster | August 18, 2005 | By Helen Pike

The road to commemorating a parish history is filled with various public events from church tours to special masses. Holy Spirit Roman Catholic Church in Asbury Park is celebrating its 125th anniversary this year, and as befits the congregation's renewed vigor, a book has been published to honor its founding on the north Jersey shore.
"125 Years of Christian Witness: 1880-2005" is a handsome volume of history leading up to construction of the English Gothic edifice crowned by a Celtic cross on Second Avenue and Bond Street. It details its 10 priests' contributions and its various church activities.
"It was a wonderful experience to learn about the history of my parish and the history of Asbury Park, as well," said Frank D'Alessandro who did this booklet with the cooperation of fellow resident Werner Baumgartner.
Local history enthusiasts will enjoy reading the parish accounts of Madeline Walsh, Fran Bruns, Steve Sgromolo, Joseph Noumair, and especially Dolores Lynch who unflinchingly talks about religious segregation and the KKK presence in Asbury Park during the 1920s when her parents operated the Lake Avenue Hotel.
D'Alessandro also credits Mary Hogan, Holy Spirit's church secretary, for her help with historic records; Jenn Martino of Rainbow Graphics, Neptune, who designed the pages, and Clayton Press on Bond Street which did the printing.
Perhaps most stunning are the color photographs of the church's magnificent stained glass windows made by Mayer and Co. of Munich, Germany. All are New Testament scenes and each has been given a caption. The most dramatic is the southern facing window on Second Avenue located above the choir loft. It shows Jesus standing among fishermen in a boat on the Sea of Galilee and is best viewed after a Sunday morning mass.
Another valuable feature in the booklet is a map and legend depicting the carved Stations of the Cross that can be found atop the columns throughout the nave and transept.
"Christian Witness" also chronicles the 58-year-history of the Holy Spirit Lyceum. Private redevelopment plans call for turning the former parochial school into a condominium residence overlooking Third Avenue and Bond Street.
The lyceum was established during the pastorate of Father Thomas Roche who came to Asbury Park in the last year of the Victorian era and stayed until the outbreak of World War II.
"Imagine what history he saw," added D'Alessandro, who also owns and is curator of the Stephen Crane House Museum on Fourth Avenue.
Imagine, also, what history Father Bill McLaughlin is seeing as Holy Spirit's newest priest to arrive in 2003.
"In the same way that Jesus used his mission on earth to bring all people together, so we too are developing a universal church right here in our community of Asbury Park," McLaughlin said in "Christian Witness".
McLaughlin's previous post was at Martin House in Trenton where he established the Young Adult Men of Trenton Initiative, a program of physical labor, mental discipline and spiritual motivation designed for 18- to 25-year-olds.
In returning to Holy Spirit's original mission to reach out to the immigrant population, the church is now the setting for regular French Creole mass at 1 p.m. for the Haitian community and a Spanish-language mass at 3 p.m. for the Latino community. McLaughlin also performs a separate morning mass at St. Peter Claver on Springwood Avenue, the heart of the city's African American community.
According to D'Alessandro, the 4 p.m. Saturday mass at Holy Spirit might be the most musical because it features a soloist while the 8 a.m. Sunday mass is silent.
"It's a nice variety of masses," he added.
After all of them, "Christian Witness" is available for purchase with a $20 suggested donation to Holy Spirit.
Those interested, may also inquire about the special commemorative mass to be conducted Oct. 22 when Bishop John Smith of the Diocese of Trenton is slated to celebrate Holy Spirit's 125th anniversary mass. A party will follow at the Berkeley-Carteret Hotel as a fund raiser for the church's outreach programs.
*************************************************************
"El Lobo Negro Tells Asbury Park Stories for First Saturday"
The Coaster, August 4, 2005

El Lobo Negro Gallery of the Arts will present Helen Pike, author of "Asbury Park's Glory Days: The Story of an American Resort", in a special program with fellow writers this Saturday.
"An Evening of Storytelling from the Pages of History" will take place at 8 p.m. El Lobo Negro is located at 519 Bangs Avenue between Emory Street and Cookman Avenue.
"We are looking forward to this performance," said John Brown, gallery owner.
Pike will read various essays about the coastal city's cultural influences in the research of her book which debuted in April. In addition, seven other writers whose names appear in "Asbury Park's Glory Days" will also revive the oral tradition by reading from their various works.
Among them will be Madonna Carter, whose father was the noted West Side photographer; Claire Thomas Garland, whose mother lead Civil Rights protests on the Boardwalk during the 1960s; and Kay Harris, whose grandfather was the first black American issued a mercantile license for a beach business and whose father was the first elected African American to the city council.
Rainette Bannister Holimon, who supplied several key photographs from the West Side's musical heritage, will read about her Peace Corps experiences from her autobiography "Reaching Out".
The Rev. Carl Hunter II, executive director of the West Side's STARS Community Development Corp., will recount his childhood observance of the 1970 riots and what his father did in the aftermath to help rebuild his church community.
Lorraine Stone will reprise her memory of hearing about the riots on the radio while attending college at Hampton Institute in Virginia as well as participating in the annual IPBOEW parades.
Persia Walker whose endorsement of Pike's book can be found on the dust jacket will read from her novel "Harlem Redux".
"I am honored to participate in this program at El Lobo Negro," Pike said.
A question-and-answer period involving the writers and the audience will follow, according to Doris Spinks Brown, gallery co-owner. In addition, the evening will be taped by Kyangazi Denson for airing on public access television at a later date.
****************************************************************
"Kay Harris Reprises Grandfather's Arts Role on the Boardwalk"
The Coaster, June 2, 2005
By Helen Pike
Four blocks away from where her grandfather, multi-talented artist Lorenzo Harris, Sr., thrilled summer visitors with his larger-than-life allegorical sand sculptures, Kay Harris is launching a new artistic vision on the Asbury Park boardwalk.
Asbury Shutterbugs is a photo gallery of new and vintage images of the city photographed by both generations of Harrises. It will be located in the Fifth Avenue Pavilion, south of the former Howard Johnson's restaurant. The gallery will include photographs by Laura Stoltesz, Harris's business partner in the multiple retail venture gathered under the banner of the Asbury Galleria.
"This is a great way to bridge the past and future," Harris said of landlord Asbury Partners' boardwalk plan to sign upscale stores for the summer of 2005.
Harris and Stoltesz, both managers for AT&T in Morristown, will share the share with Carla's Cookies, an appealing blend of sweat snacks and country crafts as well as launch a line of tee shirts touting Asbury Park. Kathy's Beach House, Cookman Avenue, will open an oceanfront location in the Galleria, carrying beach merchandise from chairs to suntan lotion.
"I feel that connection with my grandfather," Harris said, even though the family patriarch died before she was born. "My photography and writing has just surfaced in recent years."
A noted Shore civil rights activist, painter, photographer and writer, the senior Harris had a son who contributed to Asbury Park's history, as well. Dr. Lorenzo Harris, Jr., was the first African American to be elected to the City Council. At his funeral in 2001, his daughter delivered a touching eulogy that included a story about her father and other West Side business leaders organizing a special program for Bangs Avenue eighth graders, telling them to raise their expectations by wanting to go to college.
"He told us to shoot for the stars," recalled Harris who went on to graduate from Asbury Park High School in 1970. "If you fail, at least you'll touch the moon."
The public is invited to experience this intersection of new and old history over the Memorial Day weekend when the Asbury Galleria will have an official open house. The venue will be open from 10 a.m. to 7 p.m. seven days a week throughout the summer.
***************************************************************
"Stone Pony Listed As Endangered by Historic Advocacy Group"
The Coaster, May 5, 2005
By Helen Pike
For the second time in less than ten years, an Asbury Park landmark is slated to make the annual endangered sites list to be released Tuesday by Preservation New Jersey (PNJ).
Using the backdrop of May as National Preservation Month, PNJ is adding the Stone Pony to its top-ten list, citing its role as an icon of the American musical rock scene. In 1996 the Asbury Park boardwalk made PNJ's endangered sites list.
The Pony, which opened in 1974, is only the second edifice associated with New Jersey's musical heritage to make the list. The RCA building in Camden where vinyl record albums were first pressed and fan clubs launched was listed in 1997. At a restoration and renovation cost of $58 million, the industrial brick structure overlooking the Delaware River and Philadelphia has been converted into luxury residential lofts.
"The foundation of the Stone Pony is not built on cement but on 31 years of music performed by countless talented musicians and the loyalty of the fans who come to hear it," said Caroline O'Toole, club manager. "As long as there are young artists out there whose desire to be part of the legendary Asbury Park music scene leads them to be the best they can be, the magic of the Stone Pony will never be in danger."
The Pony, along with the Wonder Bar, both on Ocean Avenue, and Crossroads on Main Street, are addresses that remain from Asbury Park's post-World War II music scene. The Saint, located on Main Street opened in the 1990s, and Asbury Lanes, the bowling alley turned part-time club venue on Fourth Avenue, opened last year.
The Fast Lane, a converted apartment house garage on Fourth Avenue, is for sale. The one-time Student Prince on Kingsley Street is a strip club.
Gone are the Plantation Room, a jazz venue on Cookman Avenue; the Orchid Lounge, a jazz and blues joint on Springwood Avenue, and the Sunshine Inn, a hotel garage converted into a rock and roll room complete with a chandelier on Kingsley Street where Ozzy Osbourne once played. The third-floor Upstage, at Cookman Avenue and Bond Street, has been gutted of its 1970s interior when Tom and Margaret Potter operated the after-hours rock club where Bruce Springsteen got his start.
The 2005 theme for national preservation is Restore America: Communities at a Crossroads. The late 19th and early 20th century entertainment character of much of the west side of Ocean Avenue is slated for residential conversion.

"Now There are Three
Lyric Theater in Asbury Park is demolished"
The Coaster, February 10, 2005
By Helen Pike
Another one of Walter Reade's movie houses came tumbling down this week, leaving only the memories of area residents who can recall such live performances as the Kiwanis Kapers, the mogul's foray into television, and countless celluloid reels that flashed across its screen, including the 1941 Oscar winner, 'How Green Was My Valley', starring Walter Pidgeon, Maureen O'Hara and Roddy McDowall.
Although it ended its last decades following 1970 as a pornographic film house, the Lyric Theater wore its XXX rating with flair: the last public role for the renamed Park Cinema was its appearance in 'City by the Sea' with Robert DeNiro and the HBO series 'The Sopranos' for which its once classical exterior sported a bordello red coat of paint.
An intimate performance space, the originally named Lyric Theatre was dwarfed by the presence of Reade's more ornate and imposing Mayfair and St. James Theaters a block west on Lake and Cookman avenues, respectively. With movies still a novelty in those years before World War II, patrons ordered their tickets in advance for their choice of seating on either the orchestra or mezzanine levels, the latter's balcony festooned wtih plaster cherubs powdered with faux gold dust.
Eventually Reade sold the theater's dressing rooms to Gus Williams, the second owner of the Palace Merry-Go-Round and Ferris wheel, and Williams replaced the rear of the building with a one-story dark ride. Until the Palace Amusements closed*, it was not uncommon to listen to a movie in the Lyric, but hear the shrieks of children riding the Ghost Ride (also called the Haunted Mansion) as they filtered through the back wall.
In the 1950s, Walter Reade** switched to billing the Lyric as an art theater. He hired city resident and local schoolteacher Jan Leon for the role of Princess Jan to host a children's theater series, featuring Disney films and cartoons along with live puppet shows and clowns which he televised on WRTV.
In the next decade he hired illustrator Ida Libby Dengrove of West Allenhurst to paint murals on the mezzanine level. Soon after, Dengrove, who had trained in Philadelphia, went on to gain national recognition as the country's first courtroom television artist, a NBC network strategy used to counter the then-ban of cameras in courtrooms. Last fall, the Asbury Park Historical Society was able to save a portion of Dengrove's Parisian-themed murals prior to the building's scheduled demolition.
This brings the total to three of Reade's theaters now gone from Asbury Park. The Mayfair and the St. James, both designed by well-known New York City architect Thomas Lamb, were torn down in 1974. The remaining theaters that once carried the Reade marquee are the Baronet on Fourth Avenue (listed for sale with Better Homes NJ; the Savoy, inside the Kinmouth Building on Mattision (the office/theater building is listed for sale at $3 million), and the Paramount Theatre overlooking Ocean Avenue (which the city of Asbury Park sold last year to Asbury Partners, the master redeveloper of the residential resort's oceanfront).
* On the same day, June 12, 2004, that the nation buried former President Ronald Reagan, a volunteer crew worked to carve away the most famous icon of the Palace Amusements: the smiling face most associated with the steeplechase empire of Coney Island's own George Tilyou. Within a week, a wrecking ball began its work to demolish the 1956 extension and the original wooden Charles Loof carousel house that had been erected in 1888.
Redevelopment plans call for a hotel to anchor this block of a planned entertainment district overlooking Wesley Lake and Ocean Grove, NJ, to the south and the Asbury Park oceanfront to the north.
** The film theater of Lincoln Center in New York City is named for the late businessman, Walter Reade, Jr.
***************************************************************
"Morro Castle Makes for a Seaworthy Exhibit"
Asbury Park Press, January 23, 2005
by Ira Breskin, Correspondent
The legacy of the ill-fated Morro Castle continues to be commemorated by a permanent exhibit of some of the ship's memorabilia at the Maritime Industry Museum at Fort Schuyler in Throgs Neck, N.Y.
The exhibit, which also includes 15 photographs and two paintings of the ship, is among the most popular at the museum...The 8-year-old ship was returning to New York...from Havana (in 1934)...when it was disabled by a fire...Subsequently, the still-burning hull of the Morro Castle ran aground on the beach at Asbury Park and remained a tourist attraction throughout the six months it was beached near Convention Hall.
"Residents living near enough to the beach not only sold refreshments, but went so far as to rent out rooms, their lawns for tents, and their garages for touring trailers for the 'looky lous' taking a post-season sojourn to the Shore," writes Helen-Chantal Pike in her book "Asbury Park's Glory Days".
One long-time Asbury Park resident who worked at the family's boardwalk concession expressed gratitude for all the out-of-towners who came with money to spend (in that Depression year).
"We stayed open that whole winter," she told Pike.
************************************************************
"One More Life for Loof Carousel House"
May 24, 2004
By Helen Pike
Each year we watch a piece of the shore landscape change. Often it is an improvement. Smoothly paved roads. New housing construction for all income levels. Long-closed stores that re-open with new businesses.
But we also watch our architectural heritage disappear. Deal estates replaced by McMansions. Ocean Grove hotels converted to condos. Entire blocks in Asbury Park bulldozed from the city's once-famous resort and amusements industries.
The next to go is the north Jersey shore's last remaining merry-go-round house that once protected the magnificent carousel done by Charles I.D. Loof, Coney Island's master carver. True history buffs know the Loof carousel and house from Riverside Park on the Pleasure Bay of Long Branch is long, long gone. So is the Loof carousel and house on Ocean Avenue at Newark in Bradley Beach.
But one remains, awaiting reprieve. Since 1888 it has graced the corner of Lake Avenue and St. James Place despite hurricanes, blizzards and power outages. We urge the property's owners and responsible preservationists to come up with a plan that will not only stay the Loof demolition but will serve as a commercially viable blueprint that might help save the rest of Asbury Park – and the greater shore's -- landmark landscape.

"Asbury Park's Last Troubadour"
The Coaster, August 12, 2004
By Helen Pike

Like the hotel lounge he's performing in, Asbury Park native Danny Gallagher has been many things over the years.

Beginning with the Eddie Fisher classic "Oh My Papa" sung at the age of five on the stage of the old Holy Spirit Lyceum -- "when I was singing for the nuns" – he's reincarnated himself musically with bands that sang doo wop, blue grass, country and western, traditional Irish melodies, the blues, and a little bit of rock and roll.

At 56, the itinerant minstrel figures he's been singing professionally for 35 years. The auburn-haired Gallagher has a Texas homeboy look that reminds you of the rockabilly group ZZ Top. Only he doesn't sport the intimidating sunglasses. Unlike that group of arena-touring musicians, Gallagher has performed the circuit of neighborhood bars, Dublin pubs, benefit concerts and Denmark coffeehouses. He's also amassed quite a repertoire, including songs he's written.

"You got those guys who rely on electric guitars to make noise," Gallagher explained. "Then you've got those who, regardless of the kind of guitar they play, take you for a ride."

One of those musicians is Bruce Springsteen for whom Gallagher was an early roadie as well as a roommate, sharing his Webb Street garage apartment across from the Miramar with the driven rocker.

"Bruce could send you out the window with just his lyrics," Gallagher recalled of those early days in Springsteen's songwriting career.

Flying Hearts is the name of Gallagher's latest combo that offers three-part harmony and lyrics with something to say to fans of the genre and to those who want a night out listening to music that isn't over-miked. One of Gallagher's instruments is his pleasing voice, occasionally scratched by nicotine; the other is a well-used steel guitar with a built-in resonator that amplifies the sound. He's teamed up with baritone Lee Hoelle of Ocean Township and alto Bonnie Johnson of Ocean Grove, both of whom also play guitar.

"Bonnie and I alternate singing the melody," Gallagher added.

Flying Hearts sings every Thursday night at the Oak Lounge in the Berkeley Carteret Hotel, beginning at 8 p.m. Their act brings some welcomed diversity to Asbury Park's current music scene and attention to an under-utilized venue that should have more performers like this. Flying Hearts also generously allow other musicians to jam with them. There is no cover charge.

The band is booked through August and Gallagher says this could be his last stand at the Shore before he returns to Ireland for good. He's waiting out the birth of his ninth grandchild, a family reunion planned for December, and is taking care of some health issues acquired from years of hard living in Colorado, Texas, Washington, and Ireland.

"I don't regret any of it," he said.

After that, it's au revoir Asbury Park even though "when you grow up in Asbury Park, everything else seems kind of a bore," according to Gallagher.

Gallagher was raised by a father who loved music and took the youngster to some of the resort's more well-known watering holes, beginning with Jimmy Isola's on Kingsley Street and First Avenue where he heard Eddie King sing.

"He was a really well-liked piano player," said Gallagher of the man often rumored to be the father of actor Jack Nicholson. "When he sang, people got quiet and listened."

It's ironic that Gallagher is living in a second-story studio carved out of King's 1930s song-and-dance school on Cookman Avenue where sisters Lorraine and June Nicholson had studied. Others might remember the building as the site of Maggie Hogan's ground-breaking lesbian nightclub, Chez Elle. Like so much of Asbury Park's history, this building, too, is for sale, and its immediate future, like that of Gallagher's, is uncertain.

"My father also took me to the Kingsley Lounge," Gallagher said, referring to the former residential hotel that is now a low-income high-rise a couple of blocks north of the Berkeley Carteret. "I heard Arthur Bey play there. Arthur was the pipe organist at Convention Hall who had a contract to play the hall every week. His lounge act was pretty popular, too."

Where the senior Gallagher didn't take his son was to the original Oasis on First Avenue and Comstock Street where Rod Van Note "sang dirty songs and limericks. It was a real neighborhood hang-out."

In the early '70s when music started becoming serious business in Asbury Park, the real hang-out for aspiring performers was the Upstage, the innovative after-hours music club located downtown on Cookman and run by hairdressers Tom and Margaret Potter. Both Gallagher and Hoelle sang there.

Together with Johnson, the trio performs the kind of story-telling music that brings the chef out of the kitchen and a small but steady influx of patrons in off the hotel lobby. Even the woman working her Blackberry and cell phone eventually put her electronic gadgets aside to listen, like this classic from Gram Parsons and Chris Hillman:

A friend came around.
Tried to clean up this town,
His ideas made some people mad.
But he trusted his crowd,
So he spoke right out loud
And they lost the best friend they had.